Our Mission
The mission of the Weekend Academies is to provide ambitious high school students with knowledge ranging from business, coding, politics to pre-med. With access to world-class curriculums and experienced undergraduates from Harvard University, students will gain unprecedented access into the collegiate community in the weekend's area of focus. We hope to inspire passion for innovation alongside a team-oriented mentality, so as to best prepare the leaders of the future. Simply put, we hope to make business, coding, politics and pre-med increasingly accessible for those who want to make a change in the world around them. 
The Program
An intensive weekend course designed to teach high school students the essentials of the area of focus and the pathway to that in the environment of a collegiate campus.
With a comprehensive curriculum concentrated in two days, the weekend academy will give students the knowledge, guidance and resources they need to understand the workings of business, coding, politics and pre-med.
The Curriculum
Our curriculum, developed by our specialized Harvard undergrads and teaching staff, in conjunction with elite experts in their fields, is geared to teach high school students the fundamentals of business, coding, politics to pre-med as well as give exposure to college life. Depending on the specific program, some topics covered include:
Entrepreneurship
Marketing
Leadership Skills
Public Speaking and Presentation Skills
Game development
Algorithmic thinking
MVC web design paradigm

HTML/CSS, Python 3, Jinja, Flask
Policy research
Policy design and pitch
Resume-building
Business and College Interviews
Successful Team Work
College Admissions
The Company
Harvard Student Agencies, Inc. (HSA) is the largest student-run company in the world, employing more than 500 undergraduates annually. Founded in 1957, HSA is a multimillion dollar nonprofit that provides Harvard students with meaningful opportunities for employment and hands-on business education. Student managers lead all aspects of the operations and strategy behind HSA's 14 businesses, which range from publishing to tutoring to bartending, including Let's Go (the leader in student travel), HSA Cleaners (a laundry and dry-cleaning service), and The Harvard Shop (a storefront and web retail business). Harvard Student Agencies, Inc., is not a part of Harvard University - it is a separate student-run organization affiliated with Harvard University.
The Team
Our executive team is composed of 5 Harvard undergraduate managers who directly oversee all aspects the Academies at Harvard, and our panel of advisers includes faculty at Harvard University and corporate members of Harvard Student Agencies. We bring the right skill set to get the job done.​
Akanksha Sah '21 | Managing Director
Akanksha is a sophomore in Lowell House studying philosophy and government. Originally from Southern California, she now lives in Boston with her family. When she's not in the office, Akanksha can be found studying in the Lowtel, volunteering with PBHA, and dogspotting in the Yard.
Annie Miall '22 | Operations Director
Annie is first-year living in Straus considering a concentration in Statistics with a secondary in Global Health and Health Policy. As a native Bostonian, she can proudly say that Hahvahd really is wicked awesome! In her natural habitat, you would find Annie rambling in Spanish to those around her while trying to control the growing pyramid of fruit from rolling off of her desk.
Karina Dubrovskaya '21 | Programming Director
Karina Dubrovskaya is a sophomore in Cabot House from Toronto, ON. She is concentrating in Government with a Citation in French. She is also considering a secondary in Education Studies. Karina has a passion for advocacy and education, which relates to her role as an alumni member of the Ontario Student Trustees' Association's Board of Directors. In her free time, Karina likes to watch Grey's Anatomy, eat frozen yogurt and spend time with her family and friends.

DARA WENJIA LI '20 | VICE PRESIDENT
Dara is a Junior in Eliot House studying Molecular and Cellular Biology and Computer Science. Outside of HSA, Dara has been involved with CrimsonEMS, The Scientista Foundation, and the Harvard New Music Initiative. Her passions include the women in business community, reading about early-stage tech and biotech companies, and eating instant ramen. One of Dara's hobbies is composing symphonic music, and if her goals of becoming an investor don't pan out, she aspires to be a coffee runner for Hollywood film-scoring giant Rupert Gregson-Williams.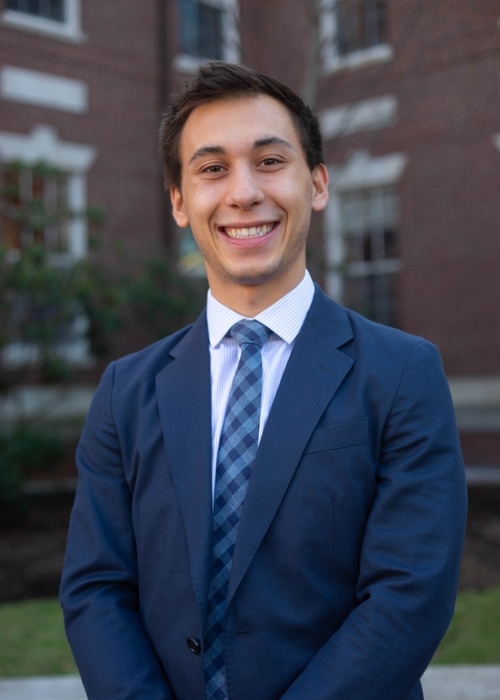 JAMES SWINGOS '20 | PRESIDENT
James is a junior living in Mather House studying Computer Science (but recently switched from Applied Math). In his time at HSA, he has been part of Harvard Student Agencies Tutoring, leading the Summer Business Academy, in addition to leading Campus Insights in 2018 as the CEO.
The Academies at Harvard is a branch of Harvard Student Agencies, a non-profit business run by Harvard undergraduate students. Learn more at hsa.net.